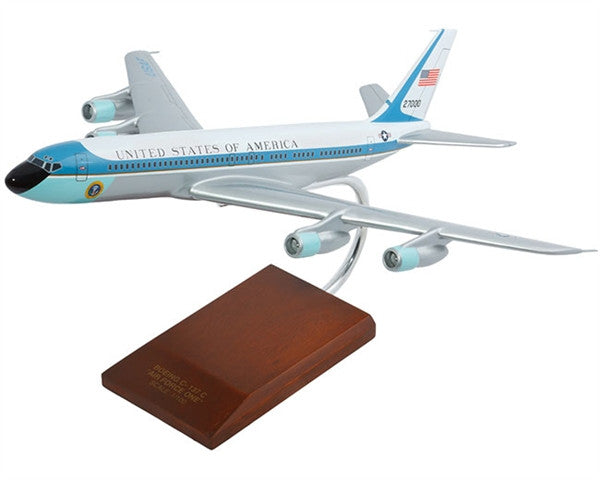 Executive Series Desktop Boeing VC-137A Air Force One 1/100 Scale Mahogany ModelTail 27000
Introducing the ready-built VC-137A Air Force One Desktop Model. This 1/100 scale model was handmade with precision and accuracy to produce the finest model that will be the centerpiece of your collection for years to come. This model is a perfect gift for pilots and aviation enthusiasts alike. Not too big or too small, this model features a wingspan of 17.5 inches and a length of 18.5 inches. This model features a very accurate paint scheme with realistic panel lines.
The Boeing C-137 is a military version of the Boeing 707 which was used by the USAF. Air Force One is the air traffic control call sign of any U.S. Air Force aircraft carrying the President of the United States.

In 1959, the time when the Boeing 707 was very limited, it incorporated four 6123-kg (13,500 lb.) dry thrust Pratt & Whitney JT3C6 turbojets but only one variant had served eith the USAF, the VC-137C Air Force One Presidential transport. To supplement the VC-137s, C-135 airframes were converted by the USAF to VC-135 VIP standard. The primary users of these were the United States, wherein they used it for staff transport.

VC-137C is a variant of the Boeing c-137 and is one of the two VC-137Cs which were redesignated when downgraded from presidential use.

It has a maximum speed of 627 mph (1009 km/h), a cruise speed of 600 mph (966 km/h) and a range of 7,610 mi.