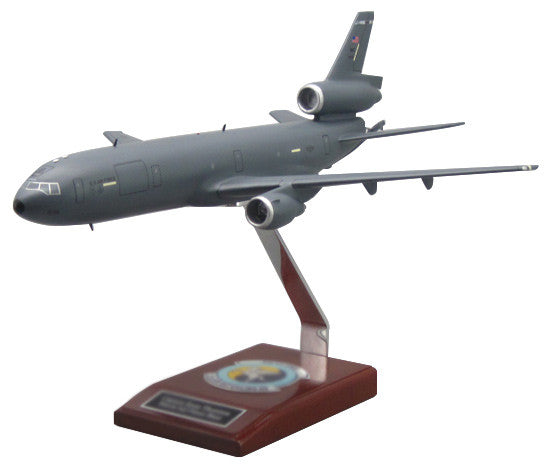 KC-10 Extender Custom Express Model Airplane
Add a customized tail number, squadron specific tail flash, accurate prop markings and up to 3 lines of text on your stand's data plate. A custom patch is available for a small fee.  Fill out the options below to build your personalized refueling model.
Product Features
Kiln dried mahogany wood, expertly carved with exact dimensions
Accurate US Air Force and international air force markings

Select ANY base tailflash

Fade resistant paint and colors that match the actual paint codes
Pitot tubes, windshield wipers, antennas, detailed boom and optional MIPR on wings.

Delivery to your door in as little as 7-8 weeks

Backed by our 110% satisfaction guarantee*
About the KC-10 Extender
The McDonnell Douglas KC-10 Extender is the military version of the three-engined DC-10 airliner operated by the United States Air Force (USAF).[N 1] The KC-10 incorporates military-specific equipment for its primary roles of transport and aerial refueling. It was developed to supplement the KC-135 Stratotanker following experiences in Southeast Asia and the Middle East. The KC-10 was the second McDonnell Douglas transport aircraft to be selected by the Air Force following the C-9. A total of 60 KC-10s were produced for the USAF. The Royal Netherlands Air Force operates two similar tankers designated KDC-10 that were converted from DC-10s.
Squadron Discounts
Say goodbye to having to collect money from your squadron and figuring out how they want to customized their plane.  We make putting together a squadron order easy for you.  Save $25 on each model when your squadron orders 5 or more models in a rolling 30 day period from our website.  Just type in your squadron name in the box provided.  We'll refund your credit card $25 per model once we see 25 or more orders from your class in a rolling 30 day period.  We also offer customized package discounts for orders of 20 or more.