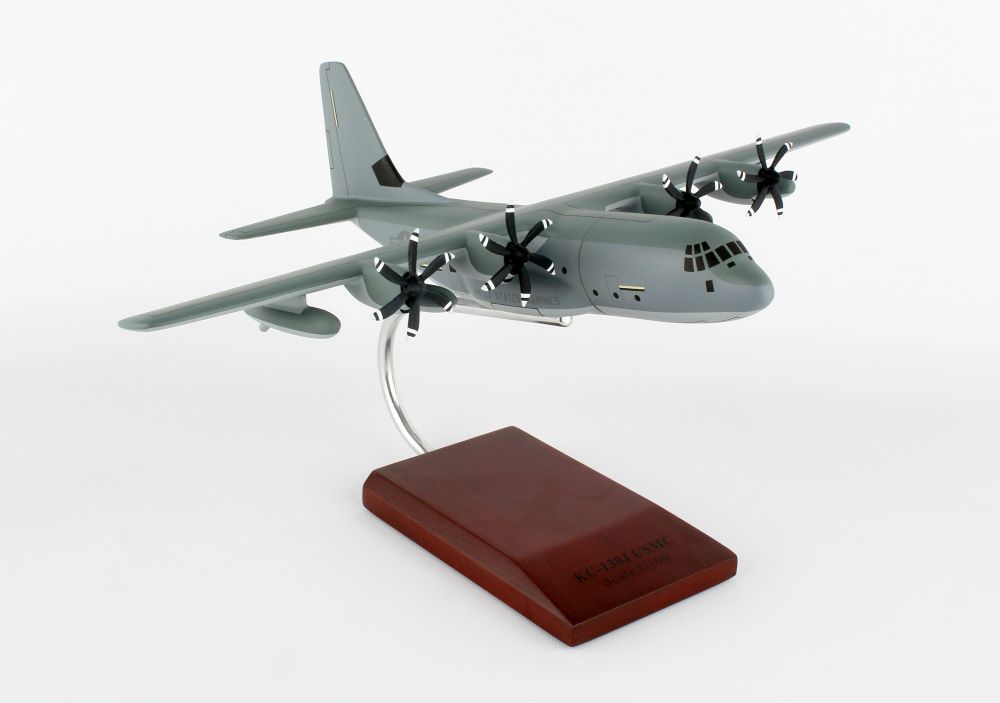 EXEC SER KC-130J USMC 1/100 SUPER TANKER
This high quality replica is handcrafted from mahogany and comes with a wooden base. Dimensions are 12"(L) X 7.5"(H) X 15.25"(Wingspan)
The Lockheed Martin KC-130 is the basic designation for a family of the extended-range tanker version of the C-130 Hercules transport aircraft modified for aerial refuelling. The KC-130J is the latest variant operated by the United States Marine Corps, with 38 delivered out of 47 ordered. It replaced older KC-130F and KC-130R variants, while USMC reserve units still operate 28 KC-130T aircraft.
The KC-130J offers a 57,500-pound fuel offload capacity using wing and external tanks while in the air. The KC-130 is equipped with a removable 3,600-gallon aluminum fuel tank that is carried inside the cargo compartment providing additional fuel when required. The aircraft is ready to fuel fixed or rotary-wing aircraft using the standard probe and drogue.
The two wing-mounted hose and drogue refueling pods (made by Sargent Fletcher) each transfer up to 300 gallons per minute to two aircraft simultaneously allowing for rapid cycle times of multiple-receiver aircraft formations (a typical tanker formation of four aircraft in less than 30 minutes). When more fuel is needed, an additional 24,392 pounds of fuel can be offloaded from a specially configured internal fuselage tank. The system also functions without the fuselage tank, so the cargo compartment can be used for cargo on the same mission, giving the aircraft even greater flexibility.