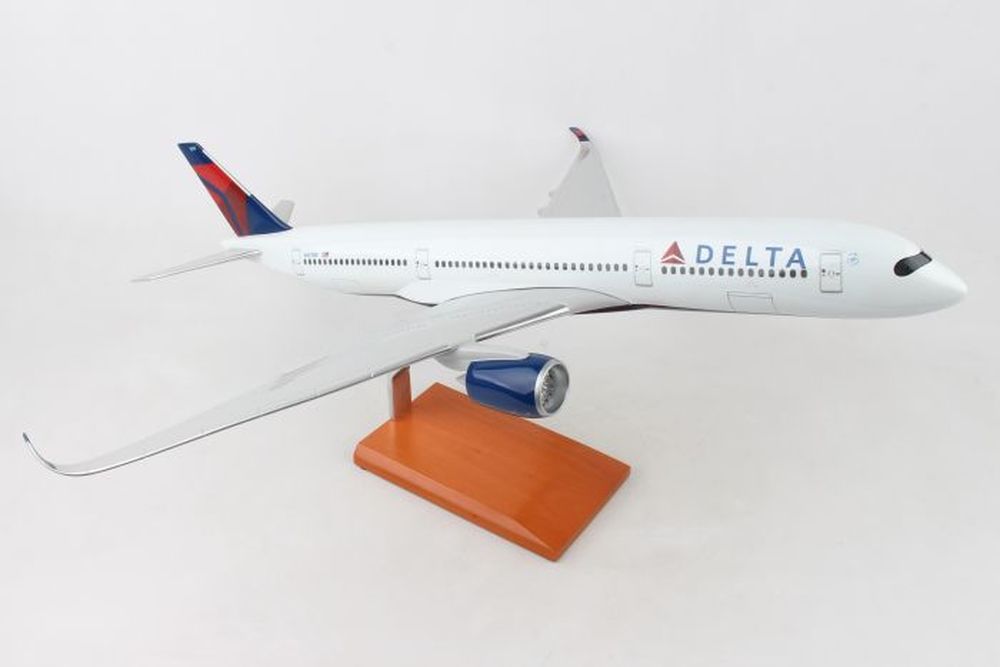 Executive Series Delta Air Lines Airbus A350-900 1/100 Scale
Introducing the ready-to-ship Delta Airlines Airbus A350-900 model. This 1/100 scale model was handmade with precision and accuracy to produce the finest model that will be the centerpiece of your collection for years to come. This model is a perfect gift for pilots and aviation enthusiasts alike. This model features a wingspan of 25.50 inches and a length of 26 inches. This model features a very accurate paint scheme with realistic panel lines.
About this Model:
Your model will be delivered exactly as shown in the photographs with the exact same paint scheme.  The stand shown in this photograph may vary or change with the model you receive. If you would like to change this model in any other way, please visit our Custom Model section of our website to commission a customized model to be built.  
History of the Airbus A350-900:
The Airbus A350 XWB is a family of long-range, wide body airliners developed by Airbus. The first A350 design proposed by Airbus in 2004, in response to the Boding 77 Dreamliner, would have been a development of the A 330 with composite wings and new engines. As market support was inadequate, in 2006 Airbus switched to a clean-sheet "XWB" (eXtra Wide Body) design, powered by Rolls-Royce Trent XWB turbofan engines. The prototype first flew on 14 June 2013 from Toulouse in France. 
The A350 XWB is the first Airbus mostly made of Carbon fibre reinforced polymer.  It has a new fuselage designed around a nine-abreast economy cross-section, up from the eight-abreast A330/A340. It has a common type-rating with the A330. The A350 XWB has two variants: The A350-900 typically carries 300 to 350 passengers over a 15,000 kilometres (8,100 nautical miles) range and has a 280-ton (617,300-pound) maximum take-off weight (MTOW); the longer A350-1000 accommodates 350 to 410 passengers, has a maximum range of 16,100 km (8,700 nmi) and a 319 t (703,200 lb) MTOW, and is supported by two 6-wheel main landing gear trucks (the -900 has four).
The long-range Airbus A350 will continue Delta's optimization of its Pacific network, operating primarily on long-range routes between the U.S. and Asia. With a lightweight airframe, and fuel-efficient Rolls Royce Trent XWB engines, the jets are expected to generate a 20 percent improvement in operating cost per seat compared to the Boeing 747-400 aircraft they replaced.