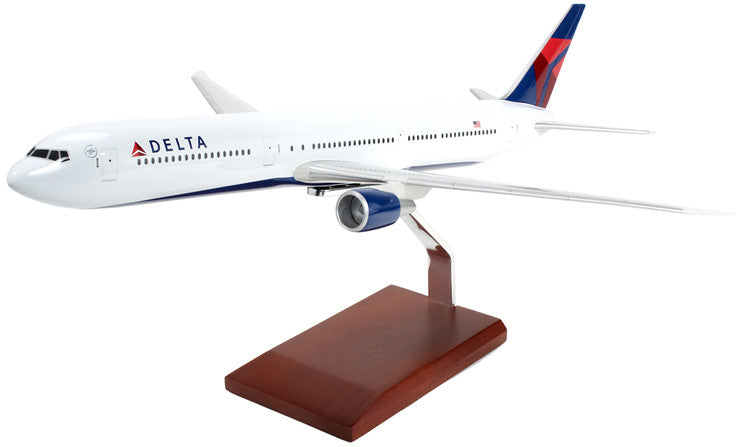 Delta Air Lines Boeing 767-400 Model
Introducing the ready-to-ship Delta Air Lines Boeing 767-400 model. This 1/100 scale model was handmade with precision and accuracy to produce the finest model that will be the centerpiece of your collection for years to come. This model is a perfect gift for pilots and aviation enthusiasts alike. The model has a wingspan of 20.5 inches and a length of 24 inches. This model features a very accurate paint scheme with realistic panel lines.
About this Model:
Your model will be delivered exactly as shown in the photographs with the exact same paint scheme.  The stand shown in this photograph may vary or change with the model you receive. If you would like to change this model in any other way, please visit the Custom Model section of our website to commission a customized model to be built.  
History of the Boeing 767:
The Boeing 767 started life as an advanced technology mid to large size airliner in the late 1970s. Launched on July 1978, the 767 was developed in tandem with the narrowbody 757 with which it shares a common two crew EFIS flightdeck (with six colour CRT displays) and many systems. The 767 also features a unique width fuselage typically seating seven abreast in economy, and a new wing design with greater sweepback (compared to the 757) which was designed with high altitude cruise in mind. The 767 program also features a high degree of international participation, with Japanese companies in particular having a large share of construction.