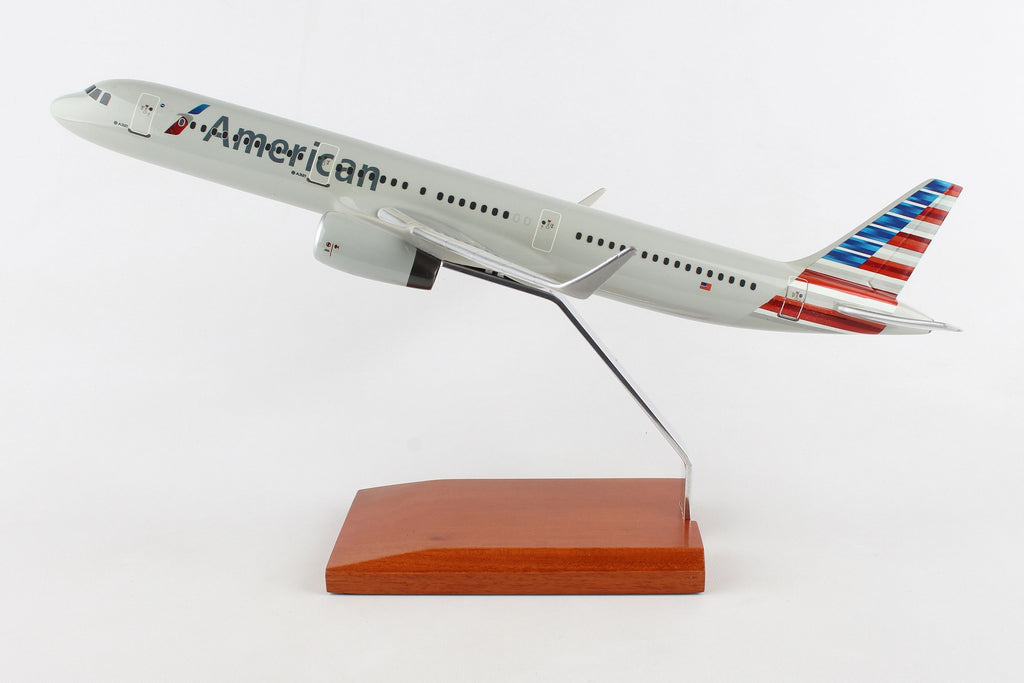 Executive Series American Airlines (New Livery) Airbus 321 Model
Introducing the ready-to-ship American Airlines Airbus 321 Desktop Model. This 1/100 scale model was handmade with precision and accuracy to produce the finest model that will be the centerpiece of your collection for years to come. This model is a perfect gift for pilots and aviation enthusiasts alike. Not too big or too small, this model features a wingspan of 17.50 inches and a length of 17.50 inches. This model features a very accurate paint scheme with realistic panel lines.
About this Model:
Your model will be delivered exactly as shown in the photographs with the exact same paint scheme.  The stand shown in this photograph may vary or change with the model you receive. If you would like to change this model in any other way, please visit the Custom Model section of our website to commission a customized model to be built.  
History of the Boeing Airbus 321:
The Airbus A321 is a member of theAirbus A320 Family of short- to medium-range, narrow body, commercial passenger twin engine aircraft manufactured by Airbus. It was the first derivative of the baseline Airbus A320 aircraft. It represents a stretched-fuselage variant of the Airbus A320. The aircraft shares a common type rating with all other Airbus A320 family variants, allowing existing A320 family pilots to fly the aircraft without the need for further training.
 Final assembly of the aircraft takes place in Hamburg, Germany or Mobile, Alabama.. As of 30 September 2018, a total of 1,777 Airbus A321 aircraft have been delivered, of which 1,755 are in service. In addition, another 2,137 airliners are on firm order (comprising 108 A321ceo and 2,029 A321neo). As of September 2018, American Airlines was the largest operator of the Airbus A321, operating 219 aircraft.