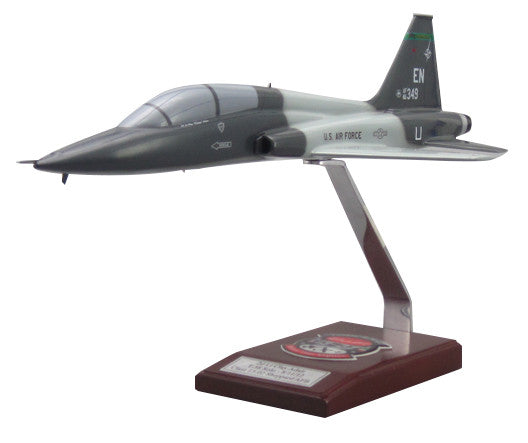 T-38 Talon Custom Express Model Airplane
Add a customized tail number, squadron specific tail flash, name on the canopy rail and up to 3 lines of text on your stand's data plate. A custom patch is available for a small fee.  Fill out the options above to build your personalized jet.
Product Features
Kiln dried mahogany wood, expertly carved with exact dimensions
Accurate US Air Force markings
Select ANY pilot training base tail markings
Fade resistant paint and colors down to the actual paint codes
Realistic features like a metal pitot tube along with accurate markings for gear well and control surfaces
Delivery to your door in as little as 6-7 weeks
Backed by our 110% satisfaction guarantee*
About the T-38 Talon
The Northrop T-38 Talon is a two-seat, twin-engined supersonic jet trainer. It was the world's first supersonic trainer and is also the most produced. The T-38 remains in service as of 2014 in air forces throughout the world.  The United States Air Force (USAF) is the largest operator of the T-38. In addition to training USAF pilots, the T-38 is used by NASA. The US Naval Test Pilot School is the principal US Navy operator (other T-38s were previously used as USN aggressor aircraft until replaced by the similar Northrop F-5 Tiger II). Pilots of other NATO nations fly the T-38 in joint training programs with USAF pilots.
Class and Instructor Pilot Discounts
Say goodbye to the pain of doing a class order in order to save some money on your model.  We know you are busy during pilot training so we make putting together a class order easy for you.  Save $25 on each model when your class orders 25 or more models in a 30 day period from our website.  Just type in your class number or put your instructor information in the comments section.  We'll refund your credit card $25 per model once we see 25 or more orders from your class in a 30 day period.