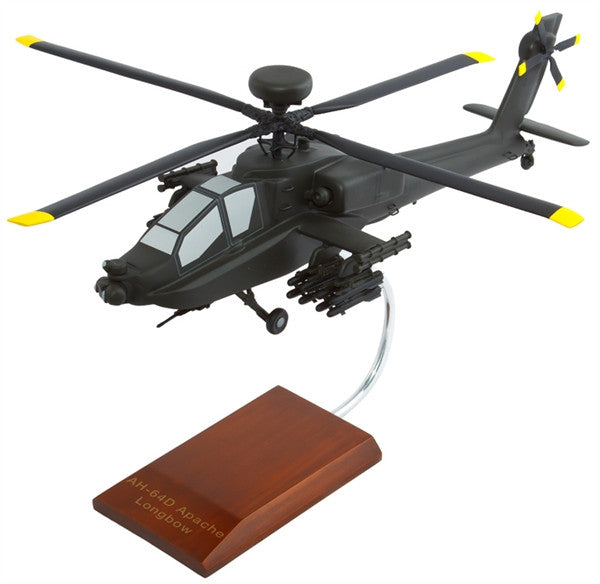 Hughes AH-64D Apache Longbow 1/32 Scale Mahogany Model
Introducing the ready-built AH-64D Apache Longbow Desktop Model. This 1/32 scale model was handmade with precision and accuracy to produce the finest model that will be the centerpiece of your collection for years to come. This model is a perfect gift for pilots and aviation enthusiasts alike. Not too big or too small, this model features a wingspan of 18.25 inches and a length of 18.25 inches. This model features a very accurate paint scheme with realistic panel lines.
The AH-64 Apache is the United States Army's main attack helicopter. It conducts rear, close and shaping missions, as well as distributed operations and precision strikes against relocatable targets. It provides armed reconnaissance when required in day, night, obscured battlefield and adverse weather conditions. It was designed by Hughes Helicopters, which in 1984 was purchased by McDonnell Douglas. In August 1997, McDonnell Douglas merged with Boeing. The AH-64D variant is now being produced by Boeing Integrated Defense Systems.

After the cancellation of the AH-56 Cheyenne, the US Army sought an aircraft to fill the anti-armor attack role. It was to be better than the AH-1 Cobra in firepower, performance and range, and have the maneuverability to fly nap-of-the-earth missions. Hence, the Army issued a request for proposals for an advanced attack helicopter in 1972. Five manufacturers submitted proposals, and in 1973 the US Department of Defense selected Bell and Hughes as finalists. Each company built prototypes which underwent a flight test program. After evaluating test results, the Army awarded the contract to Hughes. In late 1981, the AH-64 was given the name "Apache" in keeping with the Army's tradition of using Native American tribal names for its helicopters. In 1983, the first production helicopter was rolled out. The AH-64 entered service in 1984 and was first used in combat during the 1989 US invasion of Panama.

The AH-64D Apache Longbow, a more advanced model, began service in 1998. Both the AH-64A Apache and the AH-64D Apache Longbow have played important roles in several Middle Eastern wars, including the Gulf War, Operation Enduring Freedom in Afghanistan, and Operation Iraqi Freedom in Iraq. The Apaches proved to be excellent tank hunters and have destroyed hundreds of armored vehicles, mainly of the Iraqi army. The AH-64D has also been deployed in Afghanistan as part of Operation Anaconda, and from June 2003, in South Korea. Both the AH-64A and AH-64D are still in active service in the US Army.