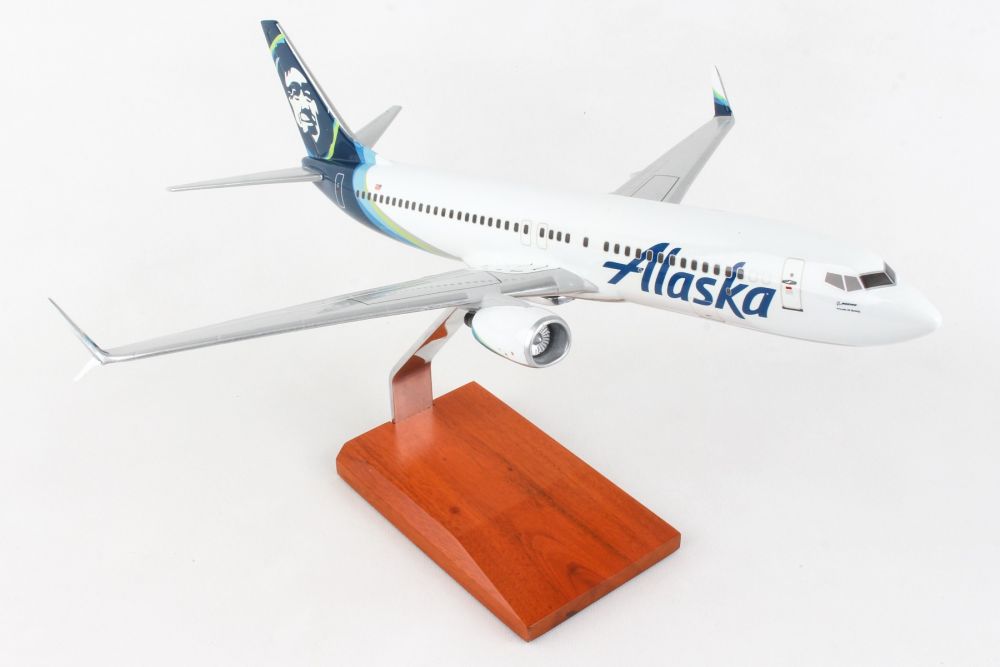 EXEC SER ALASKA B737-800 W/SCIMITAR WINGLETS 1/100 NEW LIVER
Introducing the ready-built Boeing 737 Alaska Desktop Model. This 1/100 scale model was handmade with precision and accuracy to produce the finest model that will be the centerpiece of your collection for years to come. This model is a perfect gift for pilots and aviation enthusiasts alike. Not too big or too small, this model features a wingspan of 13.75 inches and a length of 15.25 inches. This model features a very accurate paint scheme with realistic panel lines.
Boeing's next generation 737-800 is one of the largest members of the strong selling 737 family. The Boeing 737-800 together with the 737-900, introduced new fuselage lengths, extending 737 single class seating range out of 189.
The 737-800 was known as the 737-400X until its launch on September 5, 1994. The 737-800 since its launch, experienced strong sales and in early 2002, it was the highest selling Next Generation model. The 737-800's maiden flight was on July 31, 1997 and the first delivery was in April 1998.
The 737-800 operating performance includes a typical cruising speed Mach 0.785, 3,585 km standard range with 162 passengers. It has a flight crew capacity of two.
There are about 1,028 737-800 ordered, including 8 BBJ-2s and with 664 delivered by October 2002.
On June 15, 2005, Alaska ordered 35 Boeing 737-800 aircraft worth $2.3 billion plus options for 15 additional aircraft and purchase rights for another 50, making it one of the largest orders for the 73-800. The Alaska Airlines all-Boeing fleet consists some of the 737-400 variants, 737-700, 737-900 and the 737-800 as of December 2007. The airline ultimately plans to replace all MD-80 aircraft with the Boeing 737-800 by the end of 2008.