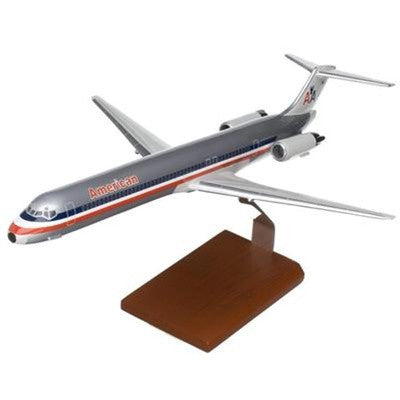 Executive Series Boeing MD-80 American 1/100 Scale Model
Introducing the pre built Boeing MD-80 American model. This 1/100 scale model was handmade with precision and accuracy to produce the finest model that will be the centerpiece of your collection for years to come. This model is a perfect gift for pilots and aviation enthusiasts alike. Not too big or too small, this model features a wingspan of 13 inches and a length of 17.5 inches. This model features a very accurate paint scheme with realistic panel lines.
About this Model:
Your model will be delivered exactly as shown in the photographs with the exact same paint scheme.  The stand shown in this photograph may vary or change with the model you receive. If you would like to change this model in any other way, please visit the Custom Model section of our website to commission a customized model to be built.  
History of the MD-80:
The MD-80 is a commercial jet airplane manufactured by McDonnell Douglas/Boeing and was derived from the DC-9.
The MD-80 series was the second generation of the DC-9 and was originally called the DC-9-80 series and the DC-9 Super 80, entering service in 1980. The MD-80 has cockpit, avionics and aerodynamic upgrades along with the more powerful, efficient and quieter JT8D-200 series engines. It also has a longer fuselage than its earlier counterparts, as well as longer range. As of 2007, some customers such as the American Airlines and Alitalia still refer to the planes in fleet documentation as Super 80 or SP80.
The MD-80 is the backbone of the American Airlines fleet and has flown more than 270 MD-80 series aircraft and is the world's largest operator of the type. The first American MD-80 was delivered on May 12, 1983. The MD-80's introduction allowed the Americans to rapidly expand its route system and fleet. In 1984, American Airlines operated a fleet of 244 MD-80 and by 1997, it has grown to 649 aircraft and 250 were MD-80s.